I have too many beauty products. Fact. I tend to move onto new products when I've only half finished others. This means I have a glut of products that sit neglected in drawers. Because I can't bear to throw out products that are perfectly useable, I am on a mission to use everything up before buying new. The past couple of weeks I have made a rather big dent in the stash and I feel much better for it. I do not feel surrounded by things and am only going to repurchase products that I really like (fingers crossed)

This means I am revisiting some old favourites and am going to be doing some mini reviews as the empties pile up.
1. MAC Studio Sculpt Foundation
Gawdddddddd! I have had a bit of a love hate relationship with this foundation. The truth is that it really doesn't suit me and I should have given it away. However, when you buy an expensive product that doesn't work you want to persevere with it out of sheer bloody mindedness. I will say that the foundation was a very good colour match for me but that's where the compliments end. I found that when I started using this product, everyone was still using their hands or one of those ancient flat foundation brushes. So I brushed it onto my skin and it looked hideous. It was cakey and very unnatural in appearance. I put it down as a lesson learned but held onto the foundation in the hopes that one day it would magically change. Months later I had been using a buffing brush to apply my foundation and decided to give it another whirl with said product. It seemed to work really well. I was really happy with the application and I went out on my merry way. It wasn't until I checked my reflection a few hours later that to my horror I discovered that the product had separated and had reverted to being cakey and generally gross. I tried it on a few nights out and heat and this foundation don't mix. The photos of me look terrible. If this foundation works for you, excellent. I thought it was awful. in fact I have yet to find a MAC foundation that I actually like. Sigh*
2. Philosophy Cinnamon Buns Shower Cream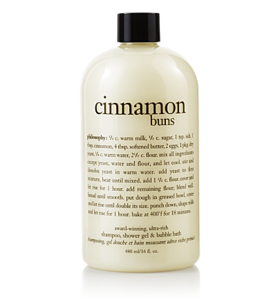 I love this product. Love it. It smells like a cinnamon swirl danish that has been slathered in cream. It's luxurious and mouthwatering. However, it contains sulphates (a gentle derivative) so I may have to consider repurchasing. It didn't make me itchy so we may be reunited again one day. This would be perfect as a Christmas present and embodies Autumn and Winter. Very sad this has finished.
3. Dove Intensive Repair Hair Mask
Now I still use sulphate free shampoos but I can pretty much use any conditioner and hair treatment as they don't irritate my scalp. I do really like the dove range. I am on the last dregs of a leave in heat protectant that is pretty good. This is how I'd describe this product. Pretty good. It's not a miracle worker and I am now using a mask that I prefer. However, if you're looking for an affordable hair mask to use a couple of times a week then this could be for you. It's often on offer and can be picked up for half price.
What products have you used up lately?