Today's post will focus on one of my obsessions. Candles. Here's the scents I've been enjoying as the nights draw in and the days get colder. I love this time of year.
First up, I like to get myself in the Autumn mood with a good candle. This year, Yankee Candle have really been on top of their game. Here's my picks.
Yankee say, 'The serene beauty of the sun's golden rays as they dip into still blue waters, calling to mind the musky descent of nightfall'.
Lake Sunset is unusual in the respect that it is not a typical seasonal scent. It doesn't contain cinnamon or any of the spicy notes that you would associate with this time of year. It is softly sweet and slightly musky. I really love it and find it very comforting To me, this one smells just like a hot Chai Latte. It has a delicate creaminess that is entwined with ginger and cinnamon. Lovely and comforting for a lazy evening.
OHMAGERDDDDDDDDD! When I smelled this candle in the shop I started moaning like Meg Ryan in 'When Harry Met Sally'. No lie. Phil was at the other end of the shop and I started bellowing for him to 'COME AND SMELL THIS'. Cue some very unusual looks from fellow shoppers. If you like Salted Caramel ice cream then you will love this. All the scent without the calories!
Here's the first of Yankee Candle's Halloween offerings. This scent comes out every year as a limited edition and in my opinion is not to be missed. Having lived in the UK all my life, I have never had the pleasure of tasting candy corn. However, I imagine for many across the pond this scent embodies Halloween. To me, Candy Corn smells like creamy, sticky sweets. I really look forward to burning this in October. Best of all, I picked up a medium sized jar in the sale after Halloween for only £8.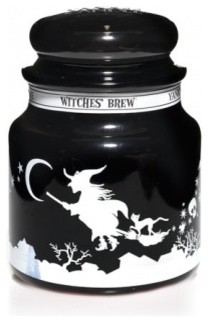 Another Halloween favourite, Witches Brew is my favourite of the limited editions. For me, it really is a bewitching scent. Patchouli, vanilla and cloves give this candle a spicy warmth and it is perfect for those dark October evenings with a good horror film on the telly.
What candles do you like for Autumn?