I'm going to be doing a little blog post every Friday called 'A little rave'. Basically, I'll try to sum up my love for a product as quickly and eloquently as possible!

This week the crown belongs to:
Super Facialist Rose Hydrate Intense Moisture Mask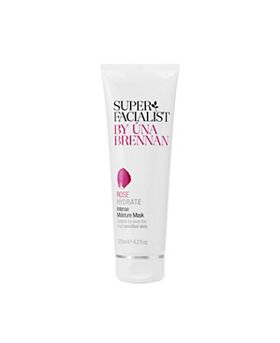 This is a moisture mask brought to you by uber facialist Una Brennan. It contains

White Willow extract, known to enhance skin cell turnover, Vitamin E and Urea with soothing Marshmallow extract to effectively hydrate, plump and replenish skin.
It feels very bitty on the skin. almost like the product hasn't been blended properly. I was slightly apprehensive on application as the texture is quite odd. However, left on for ten minutes and removed with a flannel your skin really is incredibly soft and plump. I was really surprised as I have paid over £20.00 for masks that do not work half as well. You might even be fortunate to find this on offer at Boots.
Dry skinned people, go forth, buy and try. You're welcome.