I wanted to share the skin care items I use on a regular basis, are sulphate free and are generally keeping my face from falling off. I do use all these items on rotation, depending on the needs of my skin at a specific time.
Let's start with cleansers.
These are the three cleansers that I currently use on rotation.
Liz Earle Cleanse and Polish (top left) £20.00 for 200ml or £13.25 for 100ml
This is probably one of the most famous cleansers going and four jillion are sold per second according to QVC. Boasting a host of natural ingredients, It was the first cleanser I tried where I saw instant results.
This cleanser is non foaming and has a lovely creamy texture. It is applied to a dry face over the sink or in the shower and then cleaned off with the muslin cloth provided. The cleanser can be applied over a full face of makeup and even rubbed into the eyes. The muslin cloth is intended to both remove the cleanser and exfoliate because of it's rough texture.
This is a cleanser I reach for when my skin is feeling a bit lacklustre. I do sometimes mix in a pump of the Liz Earle Brightening mask as i feel this adds an extra oomph to the cleanse.
Cleanse and Polish is a cleanser which has fallen out of favour with beauty bloggers due to a shed load of richer balm cleansers currently flooding the market. However, it would be a great cleanser to kick start a new beauty regime.
Shu Uemura Skin Purifier (top right) £59.00 for 450ml
This is the newest edition to my current routine and is a cleansing oil. Back in the day the mere notion of putting more oil onto my already oily complexion would have been my worst nightmare.
However, Shu Uemura describes the product as 'suitable for all skin types. a medium weight cleansing oil that leaves the skin feeling clean, balanced and moisturised. This formula soothes sensitised skin, maintains the skin's barrier function whilst supporting collagen function. it naturally provides moisture to the skin and helps improve skin quality'.
Like Cleanse and Polish, Skin Purifier can be massaged into the face over makeup. I enjoy that I can massage the product into my eyes and I find the oil gives a spa like feel to the whole cleansing experience. The difference i find between Cleanse and Polish and Skin Purifier is the feeling my skin has after use. After using Skin Purifier my skin really feels like silk. Both cleansers take off every scrap of makeup but I do feel that I get a deeper clean with this cleanser. Skin purifier can be removed with water or with a muslin cloth or flannel for extra exfoliation. My skin does feel well balanced after use and I find that I have to use less moisturiser afterwards.
The one drawback of this cleanser is after a few uses I do find that my skin does tend to go shinier quicker. I tend to remedy this by using a toner after use.
Neutrogena 2 in 1 Wash and Mask £2.66 for 150ml
The final cleanser of the bunch is the cheapest and the one I turn to when my skin is feeling congested. This cleanser is dual purpose. You can use it as a mask for deep cleansing or as a wash for a quick fix.
'

Neutrogena Visibly Clear 2 in 1 Wash and Mask is a unique cleanser that can be used in two different ways to help keep skin looking clear and healthy. Use Neutrogena Visibly Clear 2 in 1 Wash and Mask as a daily face wash to cleanse away make-up, dirt and excess oil and help prevent blemishes. Use Neutrogena Visibly Clear 2 in 1 Wash and Mask as a weekly face mask to cleanse deep down into pores and condition skin, leaving it soft, smooth and healthy-looking'
Personally, I always use this cleanser as a mask. I apply it all over my face before I get in the shower. I go through the rest of my cleansing routine and wash it off right before I get out. I find that as it is clay based it draws out all the junk from my skin and gives a tingly clean feeling.
The one downside of the product is that it can't be used over makeup. You have to have a makeup free face before application. This is why I tend to use this cleanser in the morning and the other two during the evening.
Best of the rest (When you can't get to the sink)
I won't lie, occasionally a face wipe does creep into my routine and I do use cleansing waters if I am too tired to reach the sink (had too many gins)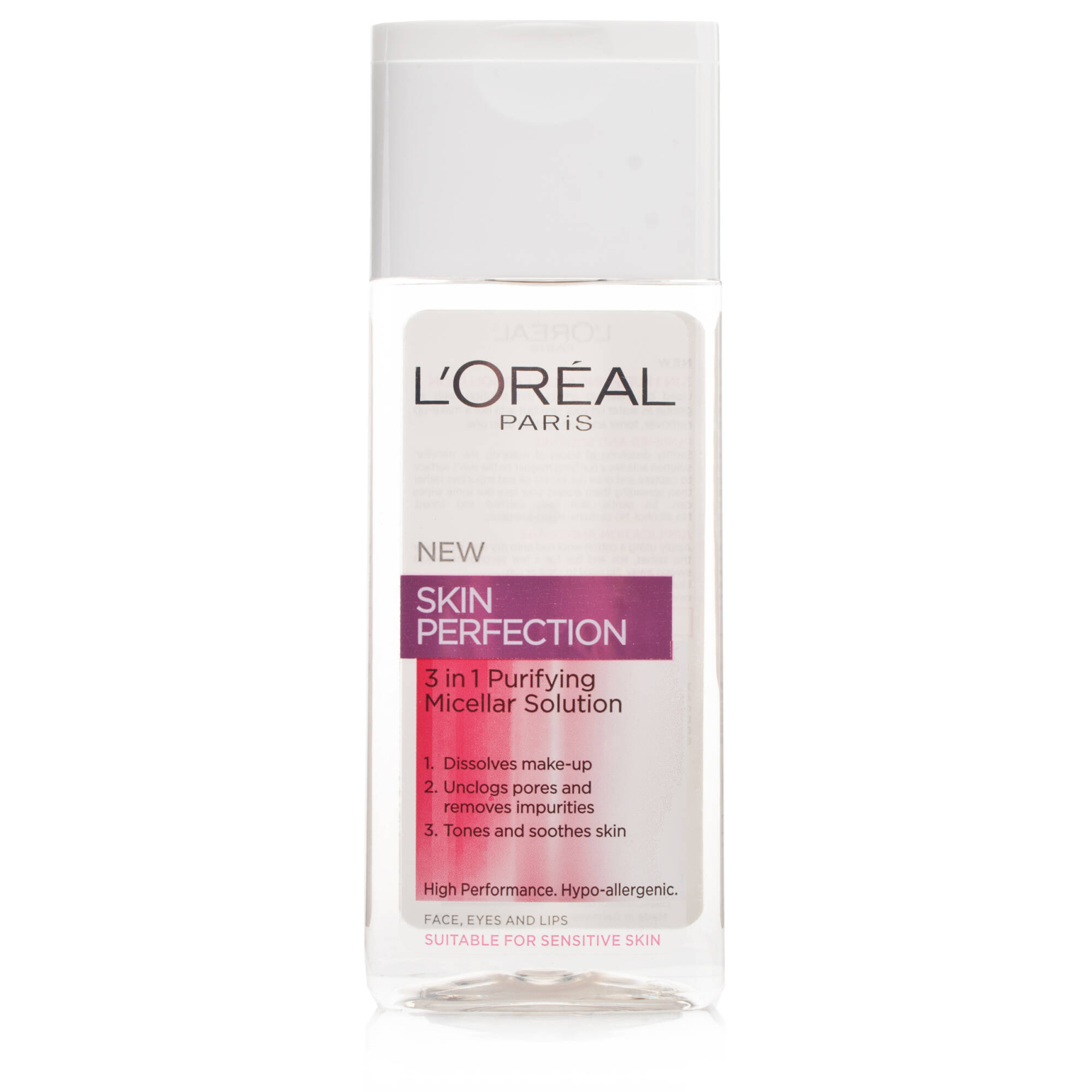 My cleansing water of choice is the L'Oreal Skin Perfecting 3 in 1 Purifying Micellar Solution.... PHEW! Try saying that ten times fast.
Micellar water gets its name from the science behind the product. It's made of "micelles," which are tiny oil molecules suspended in water. Contrary to what you might at first think, the solution never feels oily and never stings, which means you can use it all over your face from forehead to chin. Rather than being made of a foaming solution that contains soaps and harsh chemicals made to grind away dirt and makeup, micellar waters are different. Those small molecules grab on to all of the unwanted particles clinging to your face and dissolve them.
These cleansing waters are great for a quick fix. They essentially feel like water and remove every scrap of makeup. What's not to love!
Let me know what your favourite cleanser is!