Now I need to admit something, some of you may not like it. I love a good celebrity perfume. In fact, I often prefer them to premium perfumes.

Yes, I might have to admit to a complimentary friend now and again that I'm wearing Queen Latifah but who cares! I love celebrity perfumes and I'm not ashamed!

1. They have the most ridiculous packaging/ bottles.... and what is a world without a little craziness?
Doesn't everyone want a terrifying Nicki Minaj bust, complete with golden face to adorn your dressing table? Don't like the bottle then use it as a weapon to thwart would be burglars!
2. They don't take themselves too seriously. Paris Hilton, I'm looking (sniggering) at you
Come on!! Paris is committed to looking this hilarious!
3. They smell....... good!
A lot of celebrity perfumes cater for the mass market. Popular releases are usually fruits/florals with a vanilla/musk dry down. Think Britney Spears 'Fantasy' or Katy Perry 'Purr'. If you are partial to a sweet scent then you're usually swimming with options.
However, If you're after something more unusual then you will also find hidden gems such as Jessica Simpson 'Fancy Nights' or Dita Von Teese.
To top it off, some celebrity perfumes are near enough perfect copies to more premium perfumes such as Katie Price 'Stunning' - Miss Dior Cherie or Paris Hilton's 'Fairy Dust' - Juicy Couture.
4. They're cheap. Websites such as www.cheapsmells.com often have celebrity fragrances for bargain prices. I recently picked up a 50ml celebrity scent for £7.00. Not bad when I could have dropped £60 on a high end alternative.
Sure, some premium perfumes are hard to beat but give a celebrity fragrance a chance.
Here's my personal favourites:
5. Britney Spears 'Curious'
Cruising in at number five, it's the perfume 87% of women have probably owned at one point or another.

The composition is based on the notes of white flowers surrounded with vanilla and musk nuances. It opens with fresh lotus, mouthwatering pear and magnolia. The intensive floral heart is composed of tuberose, jasmine and pink cyclamen. The sensual base is composed of musk, vanilla and precious woods. This a light, almost aquatic scent that is pretty much a no brainer. Throw it on in the day and go.
4. Gwen Stefani 'Harajuku Lovers G'
The bottles really speak for themselves, here. Sickly cute, but very collectable. Gwen Stefani's Harajuku persona is pure Pina Colada and Coconut, wrestling under a palm tree whilst hurling sugar at each other. A must for coco nuts (see what I did there)
3. Britney Spears 'Midnight Fantasy'
I have made a controversial decision by not including the original 'Fantasy' to my top five. Mainly as i prefer it's successor 'Midnight Fantasy'. This is sweet on steroids but very addictive. It almost has a liquid gummy bears smell.

In the top notes there are exotic Framboise, black cherry, and plum. The heart features an harmonious dialogue of night orchid, freesia and iris. Amber, musk and vanilla create a dark and warm trail.
2. Jessica Simpson 'Fancy'
To me, 'Fancy' is a better 'Fantasy'. It has a similar scent but it also has an added element that gives off a baked goods vibe. If you want to smell like a freshly baked iced bun, then this is the one for you.
Top notes are pear, apricot and red berries; middle notes are gardenia, jasmine, almond and caramel; base notes are sandalwood, vanilla and amber.
1. Jessica Simpson 'Fancy Love'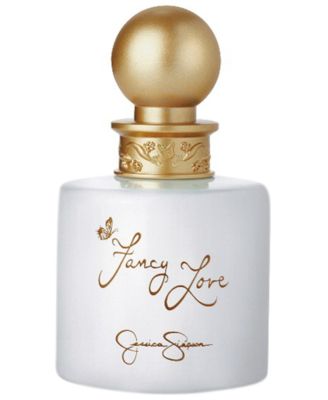 Whilst her music may be hideous, Jessica Simpson knows her perfume. Obviously, this range is not going to be for everyone. Those with a more sophisticated nose will pooh pooh this as mass market fodder. I don't care! I love you, Fancy Love and I don't care who knows! This marvellous creation smells like warm peaches and cream (drools)
Fragrantica. com explain that,
This irresistible and attractive perfume arrives in a milky white flacon with a golden stopper, shaped the same as its antecedent.
Top notes of Fancy Love will seduce you in a direct and luminous way, with accords of bergamot, peach blossom, Goij leaves, while celebrating with aromas of pink champagne. A heart is based on a seductive combination of lotus, peony, plumeria, jasmine and Turkish rose, while base notes add to depth by creamy amber and blond wood. A warm, cuddling trail is accompanied with musk and patchouli.
Do you have a favourite celebrity scent?