Let me start by saying that from the ages of thirteen to seventeen I had horrendous acne. I tried many products targeted to oily, problem skin. Some worked for a short period before the acne returned and some were a waste of time and money. At the time I was constantly searching for that miracle product that never in fact existed. Ultimately, for me the only solution was medication. Fast forward nine years and I am still paranoid that the acne will return and have amassed a veritable 'acne arsenal' to tackle any would be pore intruders! I do still get the occasional blemish around that time of the month and use all of the products mentioned on a regular basis. I never found a wonder product to tackle my severe acne all those years ago but I am really happy with my current routine.
I stick to these rules pretty religiously and they work (for me at least)
1. No sulphates. I do not use foaming facial washes that contain any sulphates as they change the PH levels of the skin making it a breeding ground for bacteria. They also cause dryness.
2. Take your makeup off completely before bed. Do not just use a face wipe. Get to a sink and wash your face properly.
3. No mineral oil. My skin is sensitive to this ingredient and I break out. Therefore I steer clear of any products that contain it.
4. Do not persist with a product if you notice a break out. This is a no brainer really. Do not continue to use a product no matter how much you like the finish or you paid for it. It does not agree with you. Many acne sufferers cannot tolerate silicones. Watch out for these.
5. Do not bother squeezing blemishes that never produce a head. These breakouts are cystic and should not be poked or prodded. Squeezing can cause significant pain and scarring.
6. Use moisturiser. Even if you are really oily, your skin needs some moisture to replace that lost by cleansing. Fail to do this and your skin will over compensate and you will be more oily (and probably break out more) Get an oil free moisturiser and use it every time you cleanse.
7. Do not put toothpaste or bum cream (sudocrem) on your face. JUST DON'T. Get a targeted blemish treatment.
8. Use a targeted face treatment at least once a week. Face masks can really help to de-congest your skin.
I use this mask about twice a week. The Tea Tree oil really helps to clear pores and is anti-bacterial. You are left with lovely smooth skin and I personally love the smell. It's green though so you do look like the Incredible Hulk.
Neutrogena Visibly Clear Two in One Wash and Mask
I personally use this as a facial wash in the morning. I apply it like a mask, go about my business in the shower and rinse it off last. It contains clay which is another ingredient that really gives pores a deep clean. It has a nice cooling effect which is nice and refreshing first thing in the morning.
Another Tea Tree product. Some of the product in this line are pants so I'm only including the ones I feel really help. This is a two phase product with a Tea Tree solution at the top and clay at the bottom. The Tea Tree works as described before with the clay giving additional cleansing and a mattefying effect to the skin. I like to use this after cleansing as a final step before I use moisturiser.
Premium Products
Aesop
Parsley Seed Cleansing Mask
£27.00 Available at Selfridges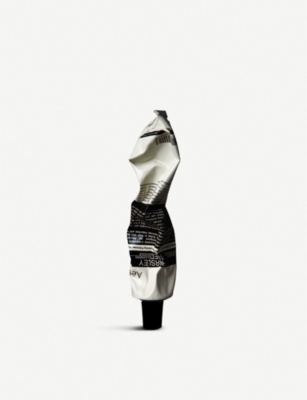 Aesop is an Australian brand that aims to fuse

both plant-based and laboratory-made ingredients of the highest quality and proven efficacy – particularly those with the greatest anti-oxidant properties.
This is a clay based mask that claims to 'deeply cleanse and refresh most skin types'.
Parsley seed is known for it's healing properties and with the combination of the clay, you get a really deep clean and any blemishes feel really soothed.
I use this mask about once a week. I would ramp up my usage but it's hefty price tag means it's more of a luxurious treat for my skin.
REN
Glycolactic Radiance Renewal Mask
£30
www.renskincare.com
Also available at Space NK/John Lewis
This mask works in a similar vain to Alpha H Liquid Gold. It contains fruit acids which really help to eat away at any dead skin cells that may be clogging pores. It is really one of those products that shows you instant results.
Ren claim that the mask will
Remove
dead skin cells to renew the complexion.
Enable skin to look brighter, healthier, more radiant.
Help reduce the appearance of fine lines and wrinkles.
Combat congestion, blackheads and blemishes.
Like the Aesop mask, I use this mask as a weekly treat. I feel that if my skin is looking dull this provides an instant pick me up. I usually notice that my makeup sits nicely on the skin the morning after application.


Origins
Super Spot Remover
£14
John Lewis
www.origins.co.uk
This is the treatment that I apply directly to blemishes. I wish I would have had this treatment in my tormented teens. Nothing i have used seems to shrink spots as quick as this stuff. You only get a tiny tub but you really only need a drop each time.
Origins say 'S

alicylic Acid instantly helps speed healing while anti-spot technology helps visibly correct post blemish darkening. Skin-calming Caffeine and Red Algae help visibly relieve irritating redness. And to help keep skin looking spotless, super exfoliators eliminate excess oils and pore-clogging debris'.
Kiehl's
Midnight Recovery Concentrate
£36.00
www.kiehls.co.uk
Now, even though I have oily skin I still like to add some moisture back in. This is an over night treatment that really helps to replenish and hydrate skin. It comes in a glass bottle and has a little pipette dispenser. I usually apply about four drops into my palms and then pat onto the skin. It is an oil so those with problem skin will feel like they are doing the worst thing possible by applying more oil to oily skin. However, the blend of oils really help to balance and I have noticed my skin moving more into the 'normal' category when using this. Basically, this is a good night's sleep in an oil.
The elixir works all night to replenish the skin with moisture and leave younger-looking. skin by morning. Enriched with a blend of naturally derived ingredients including Squalane, Evening Primrose, and a blend of essential oils.
This readily absorbed elixir helps the skin to recover radiance by morning, with skin feeling smoother and softer. Enriched with Squalane, Evening Primrose Oil, Omega-6 Fatty Acids and Essential Oils including Lavender, our formula provides a boost of intensive moisture to dehydrated skin. The formula instantly penetrates the skin surface to help replenish it with moisture. Our concentrate is designed to work at night; with skin hydrated, supple and soft, rest assured you can say goodnight to a tired-looking complexion.
What are your favourite products for problem skin?